A moving account of resilience and love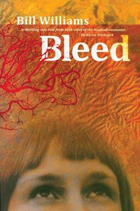 Bleed: surviving cerebral catastrophe: a tale of the mind, love and modern medicine. Bill Williams. Wild Man Press, 2015 (333 pp, $29.95). ISBN 9780646937649.

As a doctor, if you have ever watched a loved one in hospital — a parent, child or spouse — being carried along the medical diagnostic and treatment pathway, you will immediately recognise the feelings described in Bill Williams's latest book. Fear, impotence, a desire to protect, but also not to offend or obstruct those whose role you can relate to. Where do you find the balance on the patient–doctor divide?
This compelling and emotionally intelligent story traces the weeks that follow after Bill's wife Gisela suffers a subarachnoid haemorrhage, signalled by a thunderclap headache while they are camping in a riverbed in the western desert. He documents the roller-coaster of emotions — starting with the dash for medical help, and as the illness and management unfold, the hope and the grief, the repeated investigations, the surgery, the complications — and he carries the reader along with him. He chronicles the compassion and expertise of the carers, and wonders at the evolution of knowledge over the centuries that results in our current medical wizardry.…