A patient with sarcoidosis and a cryptococcal infection of the skull
Authors: Paul A Rootjes, Wouter Rozemeijer, Jacob C Dutilh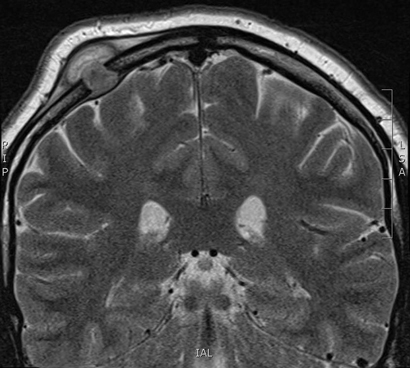 A 29-year-old man of European ancestry, with a history of sarcoidosis treated with low-dose steroids, presented with a progressive swelling of the skull which had appeared 3 weeks earlier.
Physical examination revealed a 2.5 cm soft swelling of the right parietal part of the skull. A contrast-enhanced magnetic resonance imaging scan of the head showed a solitary lesion of the right parietal bone measuring 9 mm × 17 mm.
After neurosurgical resection, pus cultures grew Cryptococcus neoformans.
In the absence of disseminated cryptococcosis, the patient was treated successfully with oral fluconazole. Current literature suggests sarcoidosis as a risk factor for cryptococcosis, independent of the use of immunosuppressive agents.1,2